Stand Up And Move to Help Limerick Children
We lost Anthony (Axel) Foley on 16th October 2016.
His younger sister, Orla, cycled 3,000 kms on The Wild Atlantic Way solo earlier this year to honor his memory.
In so doing, she also raised much needed funds for three Limerick child-centered charities, one of which is LIVE95FMs Charity of the Year – CARI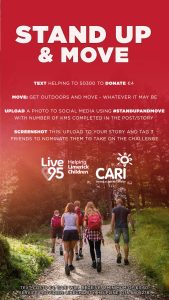 CARI – Children at Risk in Ireland, the National Headquarters for which sits quietly on The Ennis Road, regrettably exists at all, but does so to help children and their families recover from the trauma inflicted upon them by the heinous crime of Child Sexual Abuse. Every child deserves a childhood and when this has been stolen from them, we all must come together to help them cope and instill hope.
One child whom CARI has helped said of the trauma, "It was like I was carrying a very heavy school bag all the time on my own until I came to CARI. Then it was like I had someone helping me."
There are twenty four families in Limerick on CARI's waiting list needing help. Can you imagine? We can't.
Orla Foley, along with LIVE95FM and CARI, is inviting you to Stand Up And Move in Anthony's memory and help these 24 families by joining us virtually to match her Wild Atlantic Way journey on the fifth anniversary of his passing, Saturday 16th October (and Sunday 17th) and by doing so, raise awareness as well as funds to Help Limerick Children through CARI.
Whether you cycle, walk, run, hike, climb, swim, train on a pitch, paddle board or in any other way Stand Up And Move, we want you to help complete 3,000 kms that weekend.
Wherever you Stand Up And Move as an individual, a family, a hub, a club, a company or an organization, however and whenever, Orla invites you to wear something red in Anthony's memory.
Orla said, "I was delighted and honoured to support CARI with Orla's Wild Ways charity cycle creating awareness and raising funds while remembering and being grateful for my big brother. CARI's idea of a Stand Up And Move campaign on Anthony's 5th anniversary is fabulous and very apt way to remember Anthony. As a family, exercise and fitness has been great for us and I wish personally to inspire others to learn the joys of movement. Anthony would give it a thumbs up and I look forward to seeing the pictures of everyone who aim to cover the 3,000kms collectively that I cycled"
Dates: Sat 16th/Sun 17th October
Wear: Something red
STEPS:
TEXTHELPING TO 50300 to donate €4
MOVE: Cycle/walk/run/climb/kayak/
row/train/whatever
UPLOAD a photo to social media using #standupandmove and include the number of KMs completed in the post/story
Upload the instructions graphic on your social and TAG 3 friends to nominate them to take on the challenge
Find out more here: https://www.live95fm.ie/news/buzz/stand-up-and-move-to-help-limerick-children/